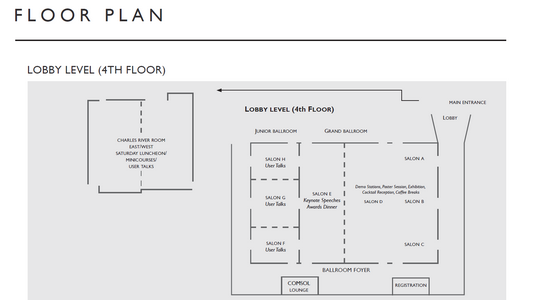 Hi, Now it's really buzzing around the COMSOL office in Burlington. Quite a number of our colleagues from the Palo Alto and Los Angeles offices have shown up to help out with the preparations. Soon, a whole gang of them will be off to the hotel to get everything ready, the registration desks, the demo stations, putting up all the posters, the auditoriums….
Read more
---

The COMSOL Conference is the year's premier event for COMSOL Multiphysics users and people interested in simulations. The program is packed with user presentations and posters, hands-on minicourses and networking opportunities. But it is not all brought to you by COMSOL alone.
Read more
---

Just a couple of days ago we got word of the winners from NASA Tech Briefs Create the Future Design Contest. The Grand Prize winner was Monika Weber and a team (Christopher Yerino, Hazael Montanaro, Kane Siu Lung Lo, and Mark Reed) from Yale University.
Read more
---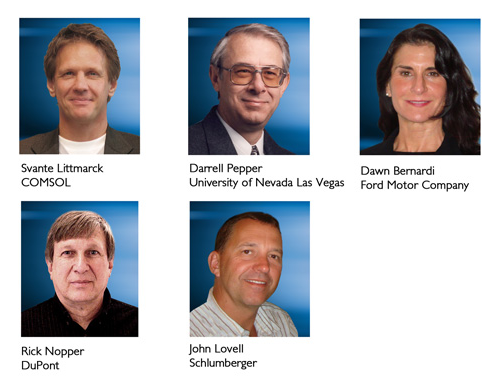 There are some great Keynote presentations being given during the conference. Dawn Bernardi kicks it all off by presenting her work and Ford's project for greener vehicles. She develops mathematical models that predict system behavior, and her presentation will be specific to lithium-ion batteries.
Read more
---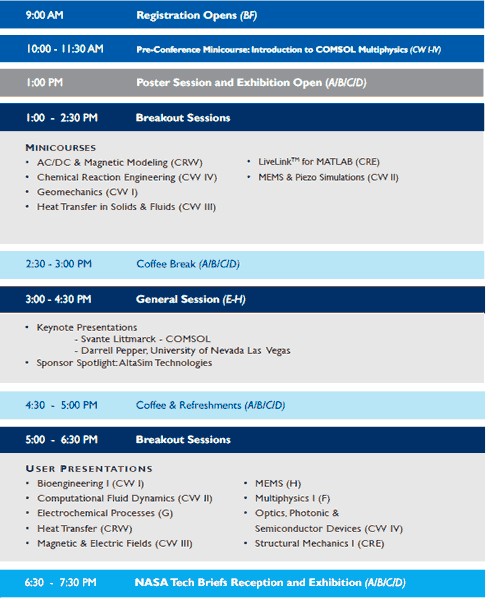 The conference User Presentation Breakout Sessions are being run between 5:00 and 6:30 pm on Thursday and 1:30 and 3:00 pm on Friday. Each Session will consist of nine parallel topic sessions, so make sure you prepare and choose wisely if you want to be hopping from one to the other.
Read more
---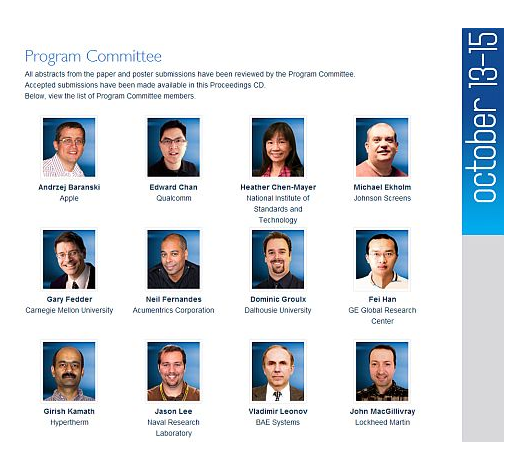 Hi there, Just looking through the Proceedings CD, I say that there are so many different topics and areas of research that it must be a daunting task to review them all. But through the diligent effort of the Program Chair, Yeswanth, he was able to get twenty experts within different areas to become members of the Program Committee. In fact, almost everyone he asked was willing to participate.
Read more
---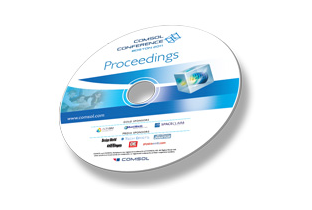 Now it's done! All finished. And it's great but the conference is looking even better. One hundred presentations will be presented during eighteen different sessions, and the 56 posters will be up throughout the whole conference. Topics range from the general (Analysis of Microwave Radiation for Heating) to the specific (Calculating and Observing Opto-Mechanically Induced Surface Acoustic Waves in a Silica Whispering Gallery Microresonator). Contributors will be presenting everything from plasmas in Tokamak reactors to frying potato chips. It looks […]
Read more
---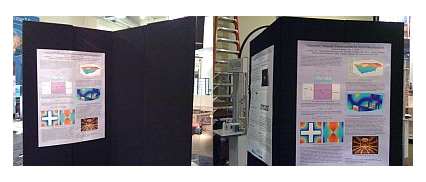 Hi Again, I have just come from a meeting concerning the conference and its poster sessions. Our marketing manager, Lauren, was just dispensing chores. A group of us will have to be there early on Wednesday to get them up, because this time we have done the printing of the posters sent by our attendees.
Read more
---

Hi Everybody, My name is Phil Kinnane and I have just joined the COMSOL Boston office. Even though I've been working for COMSOL overseas for over eleven years, I have never actually been to a COMSOL Conference – unbelievable isn't it. But having arrived here, I've been thrown in the deep end, and have been asked to work with it – almost full-time.
Read more
---
To read the full article visit the article "The inside track on simulation software" webpage.
Read more
---
To read the full article visit the article "The inside track on simulation software" webpage.
Read more
---
Get new posts by email
---
Categories
---
Tags