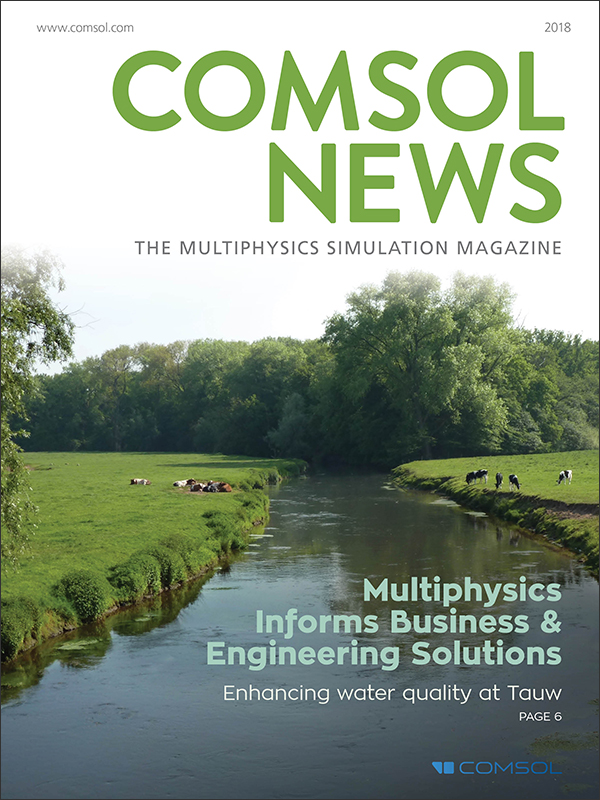 COMSOL News 2018
In COMSOL News 2018, simulation specialists share how they work with colleagues and customers to find solutions that can satisfy both business and engineering goals.
Read about how engineers in a variety of industries build accurate digital prototypes to push the limits of technology and reduce the need for physical prototypes, as well as create simulation apps to empower colleagues and customers worldwide to test new ideas. Get inspired by stories of how the COMSOL Multiphysics® software and COMSOL Server™ product are used to support organizations and customers by delivering cost-effective engineering solutions.
Download a PDF version of COMSOL News 2018 here or click the "Read Now" button below to read the digital version directly in your browser.
Topics include:
Photolithography systems
Wastewater treatment
Biopharmaceutical processes
Corrosion in multimaterial assemblies
Magnetic couplings
Coriolis flowmeters
Optomechanics
Thermal elastohydrodynamic lubrication
Sintering processes
Acoustic metasurfaces
Automotive product design
Lightning protection systems
Guest editorial: STEM Education: Simulation Apps Prepare Students for Life Beyond the Classroom


Browse all issues of COMSOL News: