COMSOL Certified Consultants
---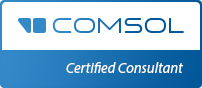 COMSOL Certified Consultants have extensive experience using the COMSOL Multiphysics® platform product as well as the many add-on and interfacing products. You may benefit from contacting a certified consultant if you are seeking guidance on starting a new simulation project or looking for ready-to-run models and reports with an in-depth analysis of the simulation results.
Browse the list of COMSOL Certified Consultants by geographic location below or use the search feature to find consultants that offer expertise in specific areas.
COMSOLは特定の個人または企業が COMSOL のソフトウェア製品の使用に関する報告された熟練度に基づいて, また COMSOL が随時設定および改訂する標準に基づいて認定コンサルタントになるように指定します. COMSOLは認定コンサルタントによる製品またはサービスの提供には参加しません. COMSOL は特定の認定コンサルタントがお客様のニーズに必要なスキルまたは経験を持っているとは判断していません. そのため認定コンサルタントに問い合わせることを推奨します.