疲労解析モジュール
Analyze Stress- and Strain-Based High- and Low-Cycle Fatigue with the Fatigue Module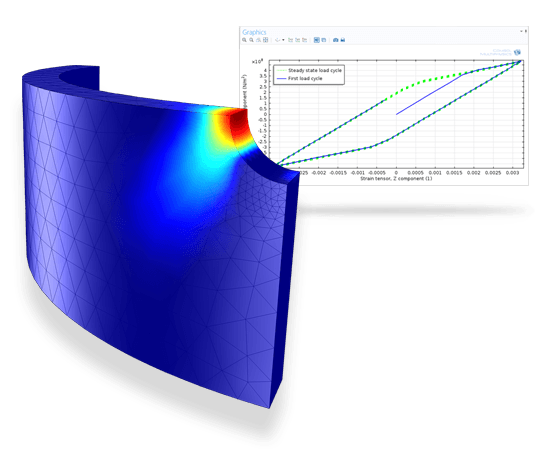 多種多様な構造物と応用分野の疲労解析
構造物が素材疲労のために、繰り返し荷重を受けるとき、静限界以上の荷重で機能しなくなる恐れがあります。仮想疲労解析は、COMSOL Multiphysicsの環境で構造力学モジュールのアドオンである疲労解析モジュールを使って実行できます。応力や歪みをベースとする臨界面法により、高サイクルおよび低サイクル疲労領域を評価することができます。

さまざまな荷重を扱う場合、累積損傷は応力履歴および疲労限界から計算されます。この疲労応力サイクルは固体、プレート、シェル、マルチボディのほか、熱応力や変形、圧電素子などの応用分野でもシミュレーションすることができます。
---
事例紹介
臨界面手法を利用する非比例荷重の高サイクル疲労分析
マトリクス・ヒストグラムを利用して、レインフローカウントアルゴリズムで計算された、ある特定の場所での応力サイクル分布 平均応力は横軸、応力振幅は縦軸で表示されています。
表面マウント型抵抗器のはんだ接合。1つの熱疲労サイクル中の散逸クリープエネルギに基づいた寿命予測。
疲労曲線
古典的な方法で疲労を解析する際には、応力や歪の振幅は疲労曲線を通して疲労寿命と関係しています。応力-寿命モデルは疲労曲線を定義する様々な方法を与えます。これらのモデルは、例えば一つの荷重が二つの値の間を振動するような場合のように比例的な荷重の場合には適していますが。高サイクル疲労を古典的S-N曲線、バスキンモデル、近似S-N曲線を含む応力-寿命モデルで解析することができます。E-N曲線、コフィン・マンソンモデルを含む歪-寿命モデルを使うことと低サイクル疲労予想を行うことができます。
歪みと応力ベースの臨界面モデル
臨界面モデルは、疲労が生じている場所でのクラックの発生と伝播のもっとも起こりやすい平面を探し出します。これらは疲労解析モジュールで応力および歪みベースの両モデルが利用可能です。高サイクル疲労領域では可塑性が非常に限定されており、応力ベースモデルが一般的に利用されます。疲労解析モジュールでは、Findley、垂直応力、Matake基準によって計算されます。これらの基準は疲労累積係数を計算し、疲労限界と比較されます。
歪ベースモデルは、臨界面を定義する場合、歪みや歪みと応力の組み合わせの値を求めます。クリティカル平面が確認されると、破断までの繰り返し回数を予測します。疲労解析モジュールは、Smith-Watson-Topper (SWT)、Fatemi-Socie法、Wang-Brownモデルの特性を備えています。これらのモデルは歪みが大きい部分の低サイクル疲労で通常用いられます。Neuber則およびHoffmann-Seeger方式は、高速線形弾性シミュレーションでの可塑性効果の近似値を求める際に利用可能です。非線形構造材料モジュールを使えば、完全な弾塑性疲労サイクルを確認することも可能です。
疲労計算の可視化
疲労解析モジュールは、疲労累積係数だけでなく、破断に至るまでの繰り返し数を計算します。累積損傷シミュレーションでは、実際に適用されたランダム荷重の応力分布が相対的累積係数とともに表示されます。このシミュレーションは、この場合、損傷と見なされる全体の疲労累積係数に対する明確な疲労荷重の寄与度を表示します。応力分布は、応力の大きさと平均応力の要素として提供されます。
蓄積ダメージ解析
ランダム荷重は構造物が受けるさまざまな大きさの多種多様な応力を取り込みます。疲労解析モジュールの累積損傷分析は応力履歴の全体的な動きを確認するだけでなく、それぞれからの損傷を累積して計算します。そして、この応力履歴は、レインフローカウントアルゴリズムで処理され、損傷はPalmgren-Miner線形損傷則を使って計算されます。R値の影響は限界S-N曲線に組み込まれています。
ランダム荷重分析で荷重事象の数が大きいときに、荷重サイクルのシミュレーションには多くの時間がかかります。非線形効果がこのシミュレーションに含まれていなければ、大幅に時間を短縮することが可能です。この場合、応力サイクルは、累積損傷分析で選択できる重ね合わせを利用して処理することができます。この技術の活用によって、計算時間の節約だけでなく、疲労評価のために保存されるモデルの大きさを大幅に削減することもできます。
熱疲労
温度変化による材料中の膨張・収縮は、応力集中や歪蓄積をもたらし、疲労に至ります。疲労解析モジュールは熱疲労モデルによってこの現象を解析するツールを提供します。 熱負荷サイクルは、熱応力、ジュール加熱、熱膨張の各フィジックスインターフェースを使ってシミュレートします。 熱疲労損傷はいくつかの疲労モデルを使って評価できます。非線形材料では、Coffin-Mansonモデル、エネルギーベースのMorrow-Darveaux緩和を使います。 非弾性歪、あるいは散逸エネルギーに関する利用可能なオプションに加えて、疲労評価モデルはユーザーが疲労計算時の歪やエネルギーの修正を行えます。
Vibration Fatigue
Vibration fatigue is an evaluation method based on a frequency-domain analysis making results available for a number of frequencies. It is used for predicting the results from a common type of experiment where a structure is subjected to an excitation with increasing frequency, sometimes called a sine sweep analysis. The following settings are available for vibration fatigue analyses:
A certain time spent at each frequency
A certain number of cycles spent at each frequency
A linear increase of frequency
A logarithmic increase of frequency
機能
臨界面法
蓄積ダメージ解析
応力ベースの疲労
歪みベースの疲労
高サイクル疲労
低サイクル疲労
Findley基準
Matake基準
垂直応力基準
Fatemi-Socie基準
Smith-Watson-Topper (SWT)基準
Wang-Brown基準
Morrow 平均応力補正
レインフローカウンティング
Palmgren-Miner
弾塑性材の近似疲労計算
非線形構造材料やジオメカニクスモジュールと組み合わせ、弾塑性材の近似疲労計算
以下のフィジックスインターフェースで定義されたアプリケーションで疲労を計算:
固体力学
シェルとプレート
マルチボディダイナミクス
熱応力、熱膨張
ジュール加熱
圧電素子
Next Step:
Request a Software
Demonstration
Every business and every simulation need is different. In order to fully evaluate whether or not the COMSOL Multiphysics® software will meet your requirements, you need to contact us. By talking to one of our sales representatives, you will get personalized recommendations and fully documented examples to help you get the most out of your evaluation and guide you to choose the best license option to suit your needs.
Just click on the "Contact COMSOL" button, fill in your contact details and any specific comments or questions, and submit. You will receive a response from a sales representative within one business day.