LiveLink™ for SOLIDWORKS®
LiveLink™ for SOLIDWORKS®
シミュレーションにおける SOLIDWORKS® 設計を強化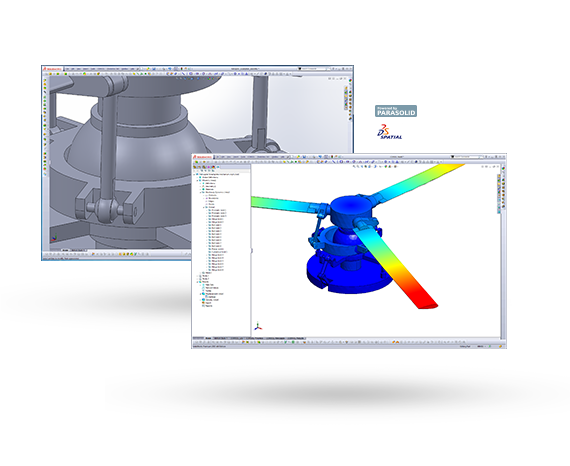 COMSOL® シミュレーションと 3 次元設計のためのインテグレーションインタフェースSOLIDWORKS®
COMSOL Multiphysics® と LiveLink™ for SOLIDWORKS® は、すぐれた接続性を備えており、シミュレーションを効率的に設計ワークフローに統合できます。SOLIDWORKS® は、3 次元設計と製品データ管理向けのすぐれた CAD ソリューションです。マルチフィジックスシミュレーションと併用すると、製品の設計、評価、最適化用の強力なツールになります。LiveLink™ for SOLIDWORKS® を利用すれば、COMSOL Multiphysics の機能を活かして SolidWorks 設計が、目的の動作環境でどのような働きをするかよく理解でき、あらゆる物理的効果とその連成によるインパクトを正確に評価できます。
SolidWorks ユーザーインタフェースに COMSOL Multiphysics を呼び込む One Window (ワンウィンドウ) インタフェース
LiveLink™ for SOLIDWORKS® にはCOMSOL Desktop® と SOLIDWORKS® 間の双方向インターフェースがあります。このインターフェースで、CAD 設計を COMSOL モデルと同期させることができるだけでなく、作成したシミュレーションで SolidWorks ファイルの設計パラメータを制御できます。これにより、自動パラメトリックスイープのシミュレーションで CAD 設計を最適化できます。より密接度の高いインテグレーションにより、One Window (ワンウィンドウ) インターフェースは、COMSOL Multiphysics で使い慣れたウィンドウ、ツール、アイコン、メニュー項目を提供し、SolidWorks ユーザーインターフェースからシミュレーションのセットアップと実行を可能にしました。
---
SOLIDWORKS® 3 次元 CAD COMSOL Multiphysics® モデルジオメトリ を同期
LiveLink™ for SOLIDWORKS® により、作成した COMSOL モデルジオメトリを対応する SolidWorks CAD ファイルと同期できます。同期、物理特性の定義、境界条件は、設計が変更されたのちもそれぞれのモデル領域と関連付けを維持します。One Window (ワンウィンドウ) インターフェースでは、SolidWorks 設計環境と COMSOL シミュレーション環境間で切り替えをした際に設計の変更を検知すると自動的に同期が行われます。
SolidWorks 設計パラメーターは、COMSOL Multiphysics が繰り返しアクセスして、パラメトリックスイープなどスタディの最適化を促し、設計のホールの径や構成要素の厚みなどの特性による効果を評価します。LiveLink™ for SOLIDWORKS® により、設計の変化は自動的に伝えられ、更新のたびに設計をインポートしたりエクスポートする手間を省けます。
ファイル操作と共有
LiveLink™ for SOLIDWORKS® には、インポート、エクスポート、そして CAD ファイルを COMSOL Multiphysics 内のモデルとリンクする機能があります。ファイル保存用のオプションがあり、SolidWorks の設計と関連付けられた COMSOL モデルを同僚と共有するのに便利です。LiveLink™ for SOLIDWORKS® は、CAD インポートモジュールのすべての機能だけでなく、SolidWorks に埋め込まれた One Window (ワンウィンドウ) インターフェースなど高度な接続性が特長です。
CAD ファイルは、SOLIDWORKS 形式 (.sldprt、.sldasm) でインポートでき、さらに広く利用されている IGES、STEP、ACIS®、そして Parasolid® の各形式でもインポートできます。また、Inventor®システムや PTC® Creo® Parametric™ CADシステムのネイティブファイルもインポートできます。CATIAR V5 のオプションのファイルインポート機能では、このシステムのネイティブファイル形式のインポートをサポートしています。インポートした CAD ジオメトリは、LiveLink™ for SOLIDWORKS® で Parasolid Parasolid® ジオメトリに変換され、シミュレーション用に設計を準備したさまざまなジオメトリ操作ができます。Parasolid ジオメトリは、COMSOL Multiphysics でさらに変更して、元の CAD 設計を取り囲む大きな領域を追加して、流量など、外部の物理的効果をシミュレートすることができます。COMSOL Multiphysics から変更したジオメトリを共有するには、ACIS 形式か Parasolid 形式にエクスポートするだけです。
シミュレーションのためのジオメトリの合理化
インポートした CAD ジオメトリから作成する COMSOL モデルジオメトリはメッシュの複雑さを抑え、COMSOL Multiphysics におけるシミュレーション効率を高めるための操作が必要な場合がよくあります。LiveLink™ for SOLIDWORKS® には、CAD インポートモジュールでも利用できるジオメトリ操作の機能があります。重要な機能としては、ジオメトリを自動的に修復してフィーチャーを削除する機能があります。
CAD ジオメトリをインポートするときに、設計に異常があると自動的に検知してジオメトリから削除します。インポート後にソリッドを形成できるよう、隙間を取り除く補修も実行されます。ファイルインポートには、ジオメトリ修復プロセスを制御する許容誤差を指定できます。このプロセスは、フィレットなど多くの小さいフィーチャーがあるインポートした設計から、それらのフィーチャーを削除する方法とほぼ同じです。高密度なメッシュの原因になり、シミュレーションの効率を低下させる小さなフィーチャがあると LiveLink™ for SOLIDWORKS® はそれらを検知します。フィーチャーは SolidWorks 環境や COMSOL 環境では手動で削除して修復できます。
COMSOL Multiphysics では、高密度メッシュの領域を作成する精密な設計詳細情報を回避するもうひとつの方法として仮想ジオメトリ操作が可能です。この機能を利用すれば、メッシュ化の仮想ジオメトリを作成して、CAD 設計で選択したフィーチャーをシミュレーションの対象外にできます。設計の元の曲率が維持されるので、構造的接触の応力の解析など一定の用途ではシミュレーション精度を上げることができます。
SolidWorks は Dassault Systèmes SolidWorks Corp の登録商標です。他のすべての商標は、それぞれの所有者の財産です。以上の商標の所有者の一覧については、 http://www.comsol.com/tm を参照してください。COMSOL AB とその子会社および製品は、それらの商標の所有者と提携しておらず、それらの商標の所有者による承認、資金提供、あるいは支援を受けていません。
Numerical Simulation-Based Topology Optimization Leads to Better Cooling of Electronic Components in Toyota Hybrid Vehicles
Toyota Research Institute of North America, MI, USA
The Toyota Research Institute in Ann Arbor drives cutting-edge research in energy efficiency, mobility infrastructure, and safety. Here, Ercan Dede and his team are designing heat sinks (or cold plates), which are affixed to fragile electrical systems and other applications in Toyota's hybrid vehicles. Their simulations simulate the cold plate ...
Innovative Packaging Design for Electronics in Extreme Environments
Brice McPherson APEI, AR, USA
Power electronics appear in many everyday products, including smartphones, electronic car parts, and household objects. Such devices require controlled temperature ranges, switching frequencies, and voltage levels to operate smoothly and reliably. For harsh environments, such as the depths below the earth's surface where oil is drilled, there is ...
Modeling Scar Effects in Electrical Spinal Cord Stimulation
Kris Carlson, Dr. Jay Shils & Dr. Jeffrey Arle Lahey Clinic Burlington, MA
The Neuromodulation Group at Lahey Clinic conducted a study based upon spinal cord stimulation (SCS). SCS involves implanting a series of electrodes that apply electric potential to the spine, interfering with pain signaling circuitry. It's used to alleviate chronic back and leg pain. Although the treatment remains effective for years, the ...
Bike Frame Analyzer
The reliability of a bike frame can be estimated by analyzing the structural stress subjected to different load cases. This app leverages LiveLink™ for SOLIDWORKS® to interactively update the geometry while computing stress analyses. Using this app, you can easily test different configurations of a bike frame for different cases of dimensions, ...