最適化モジュール
工学設計の最適化と改善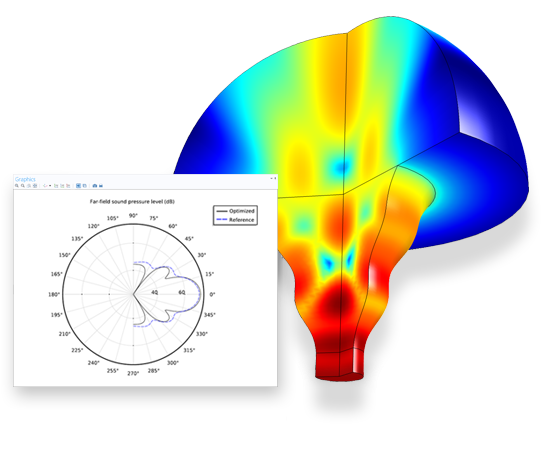 COMSOL Multiphysics モデルの改善
最適化モジュールは、既存の COMSOL Multiphysics 製品と組み合わせて利用できるアドオンパッケージです。製品やプロセスの COMSOL Multiphysics モデルを作成しても、設計に手をいれたくなるのが常です。これは、次の 4 つのステップで行います。まず、目的関数、すなわちシステムを記述する性能指数を定義します。.次に、設計変数セットを定義します。これは変更しようとするモデルに対する入力です。3 番目は、制約セットを定義します。設計変数の限界や、満足すべき動作条件が該当します。最後に、最適化モジュールを利用して制約範囲内で設計変数を変更して設計を改善します。最適化モジュールは、目的関数を定義し、設計変数を指定し、これらの制約をセットアップするための汎用インターフェースです。モデル入力はどれも、それが幾何学的寸法、部品形状、材料特性、あるいは材料分布のいずれであれ、設計変数として処理でき、モデル出力はすべて目的関数の定義に使用できます。目的関数は、COMSOL Multiphysics 製品ファミリーのどれでも使用でき、さらに LiveLink™ アドオン製品と組み合わせてサードパーティ CAD プログラムで幾何学的寸法を最適化できます。
---
事例紹介
導関数を使用しないアルゴリズムと勾配ベースアルゴリズム
最適化モジュールには、2 種類の最適化技法が組み込まれています。それが、導関数を使用しない最適化と勾配ベースの最適化です。導関数を使用しない最適化は、目的関数と制約が一貫性がなく、解析用の導関数がない場合に便利です。たとえば、寸法を変更して部品のピーク応力を変更するとします。ただし、寸法を変更すると、ピーク応力の場所がある点から別の点に移動することがあります。そのような目的関数は非解析的であり、導関数を使用しない手法が必要です。その手法として、最適化モジュール、BOBYQA (Bound Optimization by Quadratic Approximation)、Nelder-Mead、座標検索、モンテカルロ法という 4 つの手法が利用できます。
最適化モジュールは、近似勾配を計算して、改善された設計に設計変数を進化させます。部品の全質量を最小化したい場合、この手法で対応できます。部品の質量は、勾配ベースの手法を利用して、部品寸法に対して直接微分可能です。最適化モジュールでは、Philip E. Gill (University of California San Diego)、Walter Murray および Michael A. Saunders (Stanford University) が設計変数改善のために開発した SNOPT オプティマイザーの随伴手法で目的関数と制約関数の正確な解析的導関数を計算します。第 2 の勾配ベースのアルゴリズムはLevenberg-Marquardtソルバーです。このソルバーは、目的関数が最小二乗タイプのときに使用できます。一般的に、パラメーター推定と曲線近似アプリケーションが該当します。第 3 の手法、MMA (Method of Moving Asymptotes)、は Professor K. Svanberg (Royal Institute of Technology in Stockholm, Sweden) が作成した勾配ベースの最適化ソルバーです。トポロジーの最適化を目的としています。この手法は文献では GCMMA と呼ばれており、最適化モジュールでは MMA の下にあります。
勾配ベースの手法には、数百、数千もの設計変数を使用する問題に対処でき、設計変数の数が増えても計算コストがほとんど増えないというメリットがあります。随伴手法は、すべての解析的導関数を同時に計算するのに対して、導関数フリー手法では、各導関数を近似処理しなくてはならず、設計変数の数が増えると計算時間が長くなります。勾配ベースの手法では、さらに複雑な制約関数を取り込むこともできます。
導関数を使用しない手法の長所はシンプルさです。微分可能な目的関数を見つける必要はなく、少ない操作でセットアップできます。ただし、計算コストがかかるため、導関数を使用しない手法は設計変数の数が 10 個未満のときに適しています。実際、この手法はさまざまな実用的な工学の最適化問題に対応できます。
パラメーターの最適化では、流量や負荷などのモデルへのスカラー入力を最適化します。通常、これは最も簡単なたぐいの最適化であり、特に技法は限定していません。
パラメーター推定は複雑であり、COMSOL モデルと実験データの相関を取る必要があります。通常、その目的は、使用する材料特性をモデルで推定することです。
寸法、形状、トポロジーの最適化
最適化の手法は、さらに最適化する変数のタイプで分類できます。寸法、形状、トポロジーの最適化は、すべて最適化モジュール内で処理し、設計プロセスではそれぞれ専用の場所が与えられます。
寸法の最適化では、製造に直接変換できる設計変数を定義します。代表的な設計変数には、穴の大きさ、あるいは構造メンバーの長さ、幅、高さがあります。寸法の最適化は、通常、設計プロセスの最終段階として使用し、全体形状として設計がほぼ確定した段階で実施します。通常、ここでは導関数フリー手法を使用します。
形状の最適化は、通常、設計プロセスの早期に行われ、オブジェクトの形状もより自由に変更されます。設計変数は慎重に選択する必要がありますが、これは設計を過度に制約することなく形状を改善するという目的があるからです。解析的目的関数を見つけることができれば、勾配ベースの手法をおすすめします。
トポロジーの最適化は設計プロセスのごく初期段階 (通常、概念段階) で実施します。トポロジーの最適化では、設計変数として材料分布を処理し、構造の挿入または削除により目的関数を改善します。設計変数が多いため、勾配ベースの最適化以外は現実的ではありません。
Numerical Simulation-Based Topology Optimization Leads to Better Cooling of Electronic Components in Toyota Hybrid Vehicles
Toyota Research Institute of North America, MI, USA
The Toyota Research Institute in Ann Arbor drives cutting-edge research in energy efficiency, mobility infrastructure, and safety. Here, Ercan Dede and his team are designing heat sinks (or cold plates), which are affixed to fragile electrical systems and other applications in Toyota's hybrid vehicles. Their simulations simulate the cold plate's ...
Simulating the Release Mechanism in Drug-Eluting Stents
T. Schauer, I. Guler Boston Scientific Corporation, MN, USA
Stent insertion through the coronary artery is a common procedure used to treat restricted blood flow to the heart caused by stenosis. Following the procedure, restenosis may occur due to excessive tissue growth around the stent. Researchers at Boston Scientific are using multiphysics simulation to better understand how drug-eluting stents ...