製品:

マルチボディダイナミクスモジュール
マルチボディダイナミクスモジュールで剛体・軟体アセンブリを解析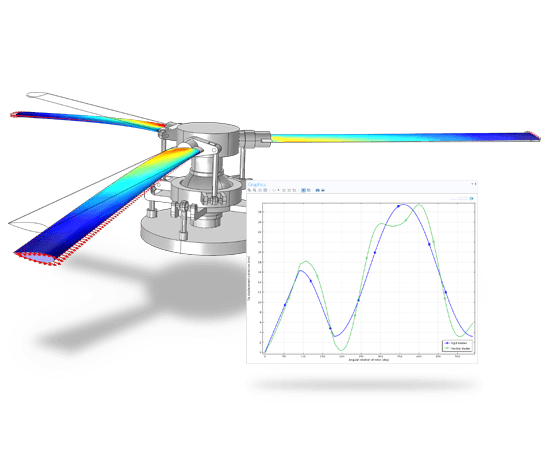 マルチボディシステムの設計最適化ツール
マルチボディダイナミクスモジュールは構造力学モジュールの拡張版であり, 有限要素解析 (FEA) で多体構造力学システムを設計, 最適化する高度なツールセットを備えています. このモジュールでは, 柔軟体と剛体の混合システムをシミュレートできます. 柔軟体と剛体はそれぞれ大きな回転変位または並進変位をします. このような解析はマルチボディシステムの重要ポイントの把握に役立ち, より詳細な構成要素レベルの構造解析が可能になります. このモジュールでは構造セグメントにかかる力や, 柔軟コンポーネントで生成され, 大きな変形や疲労による障害を招くおそれのある応力を解析する自由度もあります.
ジョイントライブラリの活用
定義済みのジョイントのライブラリはモジュールに組み込まれており, マルチボディシステムの各コンポーネント間の関係を簡単に, また確実に指定できます. コンポーネント同士は, 一定の動作しかできないよう相互結合されます. ジョイントはアタッチメントで 2 つの構成要素を結合します. ジョイントのタイプにもよりますが, ひとつのコンポーネントは空間内を自由に動き, その間他のコンポーネントは一定の動作しかできないよう拘束されます. マルチボディダイナミクスモジュールにあるジョイントのタイプは, いかなるタイプの結合もモデル化できるという意味では包括的です. そのため, 以下のジョイントタイプで正確なマルチボディ構造力学モデルを設計することができます.
角柱 (3D, 2D)
ヒンジ (3D, 2D)
円筒 (3D)
ネジ (3D)
平面 (3D)
球 (3D)
溝 (3D)
絞り込み溝 (3D, 2D)
固定ジョイント (2D, 3D)
ディスタンスジョイント (2D, 3D)
ユニバーサルジョイント (3D)
---
事例紹介
プリズム、ヒンジ、円筒、ネジジョイントの動作の向き.
平面、球、溝、絞り込み溝ジョイントの動作の向き
The stresses in the gearbox housing and the sound pressure level in the surrounding air (top and bottom-right) of a 5-speed synchromesh gearbox inside a manual transmission vehicle. The frequency spectrum of the normal acceleration at one of the points on the gearbox is also shown (bottom-left).
A swashplate mechanism is used to control the orientation of helicopter rotor blades. This example shows an application derived from the model where only the pitch of the blades can be changed, but where both transient and eigenfrequency analyses can be presented.
Model of a three-cylinder reciprocating engine, having both rigid and flexible parts, is used for maximizing the engine power and the design of structural components.
Plot of stresses in an induction motor's housing (top) and the magnetic flux density in the rotor (bottom-left). The rotor orbit at two bearing locations is also shown (bottom-right).
多体解析における完全な適応性
変形を受けるコンポーネントは, 柔構造でモデル化でき, 他のコンポーネントはこれらのコンポーネントの部品も含め, 剛体として指定できます. 多体力学設計と解析に非線形材料特性を与えるには, マルチボディダイナミクスモジュールのモデルを非線形構造材モジュールかジオメカニクスモジュールと組み合わせます. 同時に COMSOL Multiphysics と用途固有のモジュールでモデル化できる物理特性は, 熱伝達効果や電気現象など, マルチボディダイナミクスモジュールで記述する物理特性と連成できます.
過渡的, 周波数領域, 固有周波数, 定常多体力学解析を実行できます. ジョイントには減衰特性, 力とモーメント, および時間の関数として所定の動きを加えた線形バネ/ねじりバネを割り当てることができます. 以下のような解析機能と後処理機能があります.
2 つのコンポーネント間の相対移動/回転およびその速度
ジョイントにおける反応力とモーメント
基準になる局所座標権とグローバル座標系
柔軟体の応力と変形
疲労解析モジュール と組み合わせた重要な柔軟体の疲労解析
2 つのコンポーネント間の動きが他の物理的オブジェクトの機能の存在によって制限されることはめずらしくありません. ジョイントに対して相対的な動きを限定し, 条件的に固定して, 複雑なシステムを完全に定義してモデル化することができます. ロボット工学では, たとえば, 2 本の腕の相対的な動きはあらかじめ定義された時間の関数として定義できます. また, ジョイントにバネ負荷をかけ, 適切な減衰係数をマルチボディダイナミクスモジュールに含めることができます.
マルチボディダイナミクスモジュール
機能
継ぎ手を拘束して2 つの連結コンポーネント間で相対運動を制限可能
継ぎ手をロックして、指定値で 2 つの連結コンポーネント間の相対運動を止めることが可能
スプリング条件を平衡時または変形前の継ぎ手の相対運動に適用可能
減衰条件またはダッシュポット条件を定義して, 継ぎ手の相対運動における損失を指定可能
連結コンポーネント間で相対運動を規定するために継ぎ手が必要な場合あり
以下の継ぎ手タイプに継ぎ手に対する摩擦損失を追加可能: 角柱, ヒンジ, 円筒, スクリュー, 平面, ボール.
コンポーネントの留め具のところであらゆるタイプの継ぎ手に力とモーメントを適用可能
機構を初期化して移動し、指定した回転中心の周りを所定の速度で厳密に回転可能
---
用途
生物医学機器
車両力学
機械的アセンブリの一般的な動的シミュレーション
Keeping Cool: SRON Develops Thermal Calibration System for Deep-Space Telescope
C. de Jonge SRON, Netherlands
Deep-space telescopes require ultrasensitive detectors and calibration to pick up weak far-infrared signals. The SpicA Far-InfraRed Instrument (SAFARI), an infrared camera that will fly aboard the Space Infrared Telescope for Cosmology and Astrophysics (SPICA), has sensors that measure the far-infrared spectrum. The SAFARI system includes a ...
どのビジネスもシミュレーションニーズもそれぞれ違います. COMSOL Multiphysics® ソフトウェアがお客様のご要望を満たすかどうかをきちんと評価するために, 我々にご連絡ください. 我々のセールス担当と話をすれば各個人に向いたお勧めや, しっかり文書化されたモデルなどをお送りすることができ, 最大限の評価結果を引き出すことができます. 最終的にどのライセンスオプションがあなたの要望にとって最適かを選択することができます.
"COMSOL へコンタクト" ボタンを押し, あなたの連絡先詳細と特別なコメントや質問があればそれを記入して, 送信していただくだけで済みます. 1営業日以内に我々のセールス担当者から返事が届きます.