分子流モジュール
Model Low-Pressure Gas Flow in Vacuum Systems with the Molecular Flow Module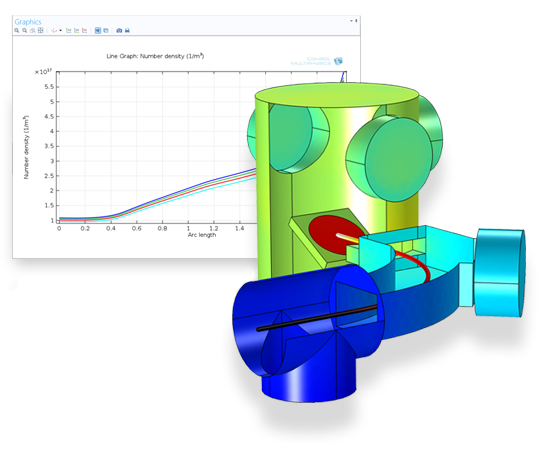 自由粒子流れを理解し、予測する
分子流モジュールを使えば真空系を設計し、低圧ガス流れを理解し、予測することができます。これらのツールが現象の理解を助け、プロトタイプコストを減らし、開発スピードを加速させるにつれ、設計サイクルにおけるシミュレーションツールの使用はますます広がってきました。従って、設計プロセスにおけるシミュレーションの使用が増えることは本質的なコスト削減につながります。真空系で起こるガス流れは通常の流体流れ問題とは異なる物理で記述されます。低圧においてはガス分子の平均自由行程は系のサイズと同等で、ガスの希薄化が重要になります。流れはクヌーセン数(Kn)を通して定量的に分類されますが、それはガス流れのジオメトリサイズに対する分子の平均自由行程の比として表されます。
| 流れのタイプ | クヌーセン数 |
| --- | --- |
| 連続流 | Kn < 0.01 |
| すべり流れ | 0.01 < Kn < 0.1 |
| 遷移流れ | 0.1 < Kn < 10 |
| 自由分子流れ | Kn > 10 |
マイクロフルイディクスモジュールはすべり流れと連続流れをモデル化する一方、分子流モジュールは自由分子流れを精度よくシミュレートするために設計されています。歴史的には、この部類に属する流れはモンテカルロ法(DSMC)による直接シミュレーションによってモデル化されてきました。その方法はランダムに発生させた大量の粒子を系において追跡するものですが、モデル化のプロセスで統計的なノイズが混入してしまいます。真空系などで見られるような低速流れにはDSMCによるノイズはシミュレーションにおいて好ましくありません。
---
低圧、低速のガス流れの高精度モデリング
分子流モジュールは、従来はできなかった、複雑なジオメトリにおける低圧ガス流れの高精度モデリングを提供するために設計されました。それは、半導体プロセス、粒子加速器、質量分光装置などの真空系のシミュレーションに適しています。狭流路のアプリケーション(例えばシェールガス掘削やナノポーラス材質中の流れなど)にも使えるでしょう。分子流モジュールは角係数法を使って、分子流束、圧力、数密度、熱流束を表面上で計算することにより自由分子流れの定常状態をシミュレートします。数密度はドメイン、サーフェス、エッジ、ポイントで周囲の表面での分子流束から再構成することができます。等温、非等温の分子流れをモデル化でき、ガス分子からの熱流束寄与を求めることができます。
分子流モジュール
機能
自由分子流
角度係数手法による等温流と非等温流
流れの領域全体またはサーフェスのみをメッシュ化するために選択する
自由分子流におけるシステム容量の数密度の再構成
拡散フラックス、蒸発、分子流、リザーバー境界条件
総真空条件と真空ポンプ境界条件
非等温流の温度境界条件
ガス放出、吸着/脱着、沈殿
のための壁境界条件
過渡流
離散速度/ラティスボルツマン法の変形態様を使用したボルツマン BGK 方程式による等温流
クヌーセン数全域に適用される壁境界条件
モデリング領域
に流体を侵入または残すためのナビエ・ストークス様式と分子流動様式に適した境界条件
---
用途
Innovative Thermal Insulation Techniques Bring Vaccines to the Developing World
D. Gasperino, O. Yildirim Intellectual Ventures, WA, USA
When medical professionals transport vaccines, their cargo needs to be kept at a cool temperature. This limits their ability to travel to regions where there is not enough electricity. Intellectual Ventures' Global Good program designed a thermos-like container that is powered by ice and keeps vaccines cool for long periods of time. They used ...
Next Step:
Request a Software
Demonstration
Every business and every simulation need is different. In order to fully evaluate whether or not the COMSOL Multiphysics® software will meet your requirements, you need to contact us. By talking to one of our sales representatives, you will get personalized recommendations and fully documented examples to help you get the most out of your evaluation and guide you to choose the best license option to suit your needs.
Just click on the "Contact COMSOL" button, fill in your contact details and any specific comments or questions, and submit. You will receive a response from a sales representative within one business day.